Guides
Tours for children
What better way to learn about the exciting world of the railways than on a discovery tour through the DB Museum? Specially designed for children, the tours include plenty of games and a generous dose of fun.
Parts of the program take place in our new museum education room.
Information & Booking
Service centre
Monday to Friday 9 am to 1 pm
(except on public holidays)
Tel.: 0800 32 68 73 86
(within Germany only)

E-Mail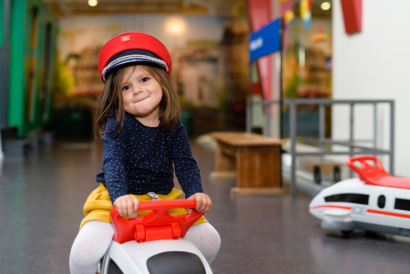 Chuff chuff, here comes the train
Currently not bookable - A train needs a lot of things before it can start its journey: a track, station and train crew to name just a few of them. Together, the children explore the exhibition to hunt down the objects needed to run the railway. At the end of the tour, they recreate a train journey with a Brio train set.
Number of participants
6 to 15 children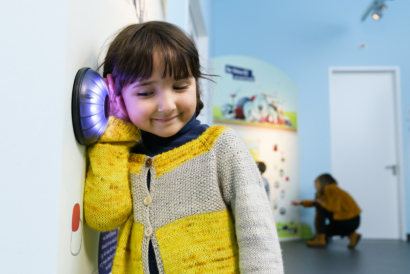 The little ICE and Grandpa Adler
Currently not bookable - What's the difference between the driver and the guard? And why can't the ICE whistle like the Adler? Together with the little ICE and Grandpa Adler, the children use games to learn the most important differences between the Adler and the ICE. At the end, they can even compete in a race themselves.
Number of participants
6 to 15 children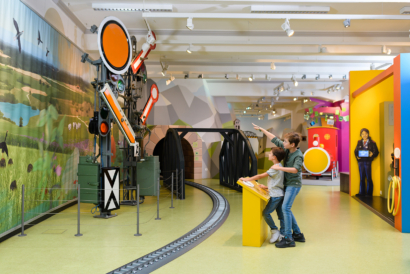 Tracks are not a playground
Currently not bookable - How should I behave on the way to school? What do I have to pay attention to when a train arrives at the platform? And why are railway tracks such a dangerous place to be? This tour teaches children how to behave on and around the railways and how to avoid potentially dangerous situations when travelling with friends or to and from school – whether by bus or train.
Number of participants
6 to 15 children
Visit the DB Museum
Opening hours
Tuesday to Friday 9 to 17 o'clock
Saturday, Sunday, holidays 10 to 18 o'clock
Monday closed
Admission prices
| | |
| --- | --- |
| Adults | 7 € |
| Families (2 adults and up to 4 children) | 14 € |
| Children (aged 6 to 17) | 4 € |
| Reduced price | 6 € |
| School classes (per person up to and including 12th grade) | 2 € |
| Children up to 6 years of age | free |
| Current DB employees | free |